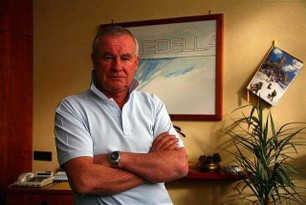 La Collezione "Renato Cenedella" nasce all'inizio degli anni 70 a Vigevano, da sempre riconosciuta come capitale mondiale della calzatura.
Destinata ad un pubblico femminile esigente in tema di qualità e praticità,viene pensata per una donna moderna e dinamica, che ama un prodotto raffinato nel quale il contenuto moda è sempre presente, mai esasperato.
Speciale cura ed attenzione è posta nella selezione dei materiali , delle forme e degli accessori che caratterizzano il prodotto per soddisfare le richieste di una clientela internazionale.
La Collezione si concentra particolarmente su sandali , mocassini e ballerine, realizzati usando pellami morbidi dai colori intensi e lavorati dalle mani di esperti artigiani.
La filosofia della Collezione e le scelte strategiche dell'azienda sono determinate da Renato Cenedella e dai suoi collaboratori.
La partecipazione alle più importanti manifestazioni fieristiche mondiali quali MICAM SHOEVENT di Milano e GDS di Düsseldorf, dove l'azienda è presente da oltre quarant'anni, costituisce la principale occasione di incontro con la clientela.
Inoltre la Collezione è presentata in esposizioni che si svolgono ad Amburgo, Berlino, Francoforte, Monaco di Baviera, Parigi e Bruxelles nei mesi di marzo e settembre.
Le scarpe di Renato Cenedella, assolutamente prodotte in Italia in tutte le fasi di lavorazione , sono apprezzate da una clientela internazionale attenta al design ed alla qualità , che può acquistarle nelle migliori boutiques d' Europa, Asia e Nord America.
Renato Cenedella , nel garantire la massima qualità del prodotto, assicura l'autenticità del 100% MADE IN ITALY.


At the beginning of the 70's the "Renato Cenedella" Collection is born.
The Collection concentrates on the dynamic and modern woman who loves a refined product in which fashion is ever present but never estreme and expects quality and comfort.
The philosophy and the operating strategies are determinated by Renato Cenedella who has been leading the Company for the last thirty years.
Selling is managed from the headquarter in Vigevano and supported by partecipation in the eventful calendar of exhibitions. We are doing our business with International buyers from Europe, Asia and U.S.A.
The wide technical experience allows the production of exclusive women's shoes singled out by excellent quality and design. Selected materials, refined details and accessoires characterize our styles to satisfy all senses and all needs of our clients.
Special attention is given to "ballerinas", moccasins and sandals produced with soft leathers and in smart colours.
All our shoes are handcrafted following the old tradition of artisan shoemakers.
The headlines of "Renato Cenedella" Collection are elegance, quality and, first of all, 100% MADE IN ITALY.